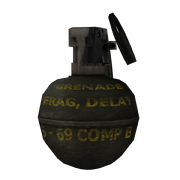 Frag Grenade is an available type of explosive in Spec Ops: Rangers Lead the Way, Spec Ops: Covert Assault, and Spec Ops: The Line.
Frag grenades can be thrown over cover, or bounced off walls, to kill entrenched enemies. When thrown they will explode a few seconds later, killing anyone within its radius, including the player. When landing on hard surfaces they will bounce a short distance further from where it landed. When landing in soft surfaces, such as sand, they will stay in the spot it landed.
Game files refer to them as M67 Grenades.
They can not be "cooked" and will not explode regardless of how long the player holds on to one.
In the multiplayer, they are unlocked at level 1, thus making them available at the start of the game.
Walker and his squadmates can be killed by their own grenades.
In the single player, Frag grenades are obtained by finding specially marked grenade crates. In multiplayer, they are replenished by taking grenade boxes.
Community content is available under
CC-BY-SA
unless otherwise noted.