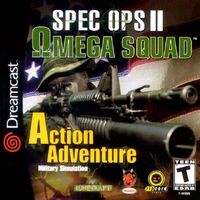 Spec Ops II: Omega Squad is the only game in the Spec Ops series released on the Dreamcast. Players control a squad of special operations soldiers who must carry out a string of tactical missions across the planet. Unlike previous Spec Ops games, a single soldier is controlled instead of a complete squad. The mission objectives include destroying enemy compounds, recovering military hardware and rescuing hostages. They take place in five different locales: Antarctica, Korea, Pakistan, Thailand, and Germany. Each country has a specific mission that entails promoting the well being of the United States of America - there is no specific storyline but rather a collection of missions to complete. Most of them are based on possible future events in the 21st century, not based on existing, historical conflicts.
The success of the mission depends on the preparations (determining the equipment), which weapons are chosen and which soldier is picked. Each soldier has different abilities and some are better suited for specific missions than others. The six classed include infantry, grenadier, machine gunner, sniper, close quarters, and demolition. Each class has a different payload and arsenal to his disposal, including items such as medical kits and optical devices that are restricted to a specific soldier.
The game is shown from a first-person perspective, common for the Windows title Spec Ops II: Green Berets, but not the PlayStation console titles in the series.